About Us
A Northwest Institution Since 1956
It was November of 1956, that the father and son partnership of Henry and Walter Sheffield opened their doors for business on Columbia Street in downtown Vancouver, Washington.  Sheffield Marine Propeller Service was opened to serve the commercial and recreational boating community on the Columbia and Willamette rivers.
At 17, Henry Sheffield came to the United States from Turkey and settled in Long Island, New York.  Henry took a job at Columbia Bronze in Freeport New York, where he was factory trained in propeller repair. After 13 years, Henry left Columbia Bronze and started his own company, S&S propeller in New York City.  After selling S&S propeller, Henry got an offer to come out to the Northwest to run the propeller division of a major tugboat company where he worked for 8 years before bringing Walter and his family out west to start in a new business adventure.
Sheffield Marine Propeller Service opened its doors in 1956, and was open for 3 years before a fire destroyed the Vancouver location. Soon after – the business moved to their current location on North Vancouver Way in Portland, Oregon.
Having lost everything in the fire, Henry and Walter engineered and built by hand most all of their own propeller repair equipment which is still in use at our facility to this day.
After Henry's death in 1964, Walter took over ownership and the day-to-day operations of the business along with his wife and lifelong companion Carolyn.  Together they ran the business side-by-side until their deaths in 2008 and 2014.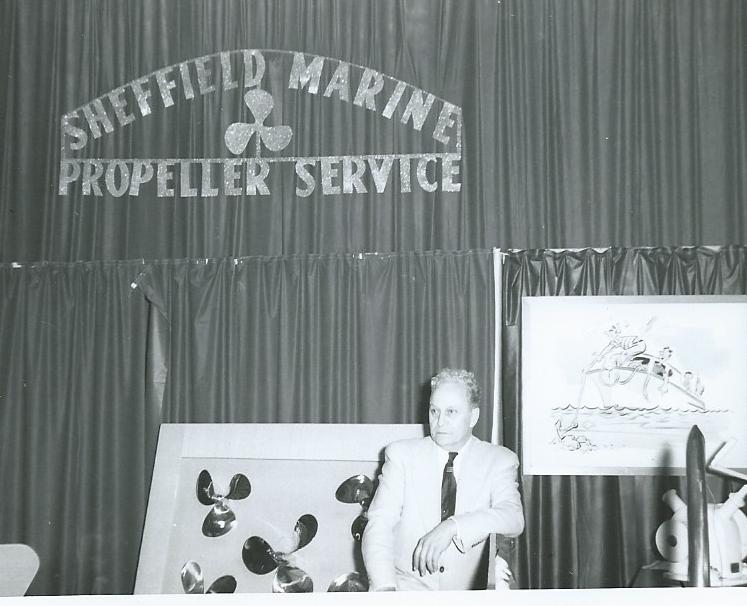 Walter, a master skipper – and Carolyn having a great love of water, were both avid boaters and participated in many boating organizations in the area.  One of Walter's greatest joys was being the leader and organizer of the Christmas Ships for over 25 years.
Today, Sheffield Marine Propeller Inc. is now a third generation family-owned business, operated by Walter and Carolyn's daughter Kimberly, and son-in-law Brian – who have both worked at Sheffield Marine Propeller for over 25 years.  Together with the help of grandson Nathan and grand-daughter Danielle, the family carries on all the same founding principles and teachings that were passed down to them which are still in effect today: "Provide quality service, quality products, and make sure every job is 100% guaranteed to the customers' satisfaction."
Sheffield Marine Propeller is a technical member of the NPMA.